Homecoming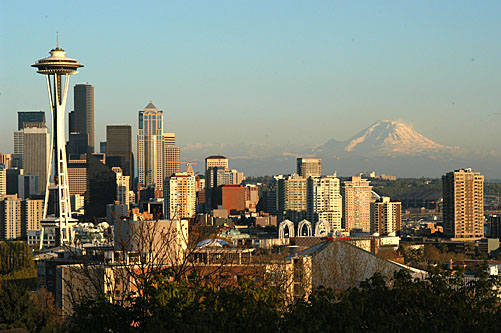 Ah, Seattle. Birthplace of Jimi Hendrix, Boeing, Sir Mix-a-lot, the grunge movement, Starbucks, Mark O'Connor, Judy Collins,
Rainn Wilson
, and most importantly (to me anyway), me.

I've lived in Nashville for 22 of the last 24 years, but when people ask me where I'm from, I still answer "Seattle." I'll always consider it my hometown. The last time I was back in Washington though was when I was in high school. Until recently, I didn't have any family to visit there, and you don't get the kind of cheap flights from Tennessee that encourage quick weekend getaways. But now that my grandma and aunt live there, my dad's family is all going for Thanksgiving this year. I'm pretty giddy about getting back up there. It's been too long.

Last year I made a
comment
on here that Motochrist's "Evel" was the greatest tribute song ever recorded. I was wrong. This is...


Robyn Hitchcock - "Viva! Sea-Tac"
(mp3) from
Jewels For Sophia
Have a great Thanksgiving everyone!
Comments:
The skyline and surrounding views in the Seattle area are some of the most beautiful anywhere - on a clear day! Enjoy your time in Seattle, your turkey and your family. We'll miss you here...
Yeah, you'd be hard pressed to convince me on a sunny day that there is any city in the country more beautiful than Seattle. The weather was fantastic for all but two days of my trip. And it only rained once!!!
Post a Comment
<< Home