Christmas with Louis and Keely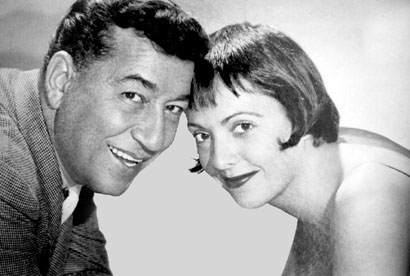 It's almost criminal that Louis Prima isn't a household name. The average person has no idea who he is, and if they have heard of him, he's usually just the guy who did the song in that
Gap commercial
a few years back. But the man is an unqualified entertainment legend, whether the average Joe on the street has heard of him or not. When he partnered with Keely Smith, backed up by Sam Butera & the Witnesses, their lounge act is part of what made Las Vegas so great in the 50s and 60s. Louis and Keely were known as the King & Queen of Las Vegas, and their routine with him as the wild jokester and her as a stone-faced straight woman later became the template for Sonny and Cher. But more important than their influence on Las Vegas and entertainment in general is the fact that their music is simply pure, unadulterated joy. You seriously cannot listen to it without smiling.

As I type this, Santa Claus and his reindeer are already making their way around the globe. According to the
NORAD Santa Tracker
, the sleigh is currently flying over China. So these two songs seem appropriate for the most awesome night of the year. Louis' track comes from his 1930's big band era, and Keely's song, from her 1963 Christmas album, features a special cameo appearance as Santa Claus. I'd tell you who it is, but that would ruin the surprise (though you can probably guess).


Louis Prima - "What Will Santa Claus Say When He Finds Everybody Swinging?"
(mp3) from
Yule B' Swingin'
Keely Smith - "Rudolph The Red Nosed Reindeer"
(mp3) from
A Keely Christmas
Labels: holidays